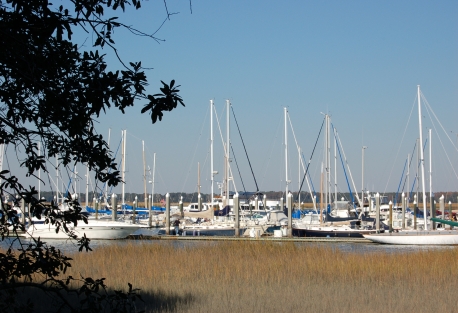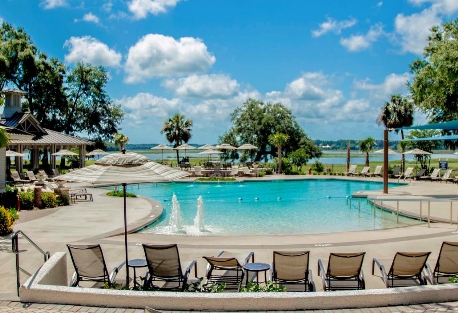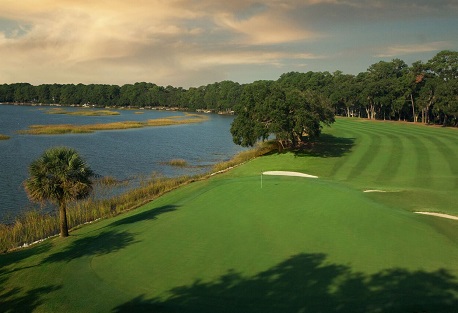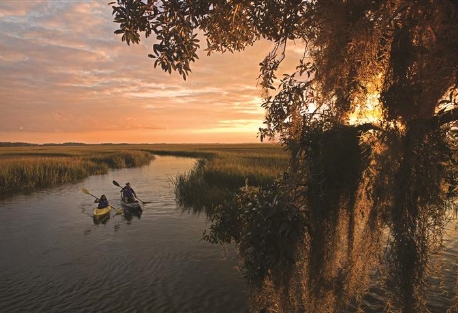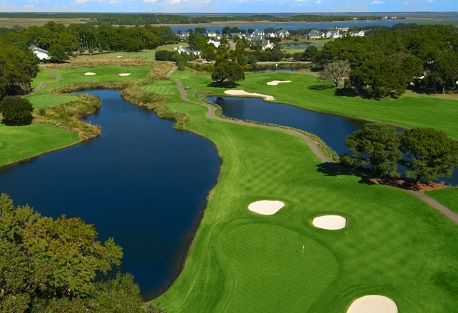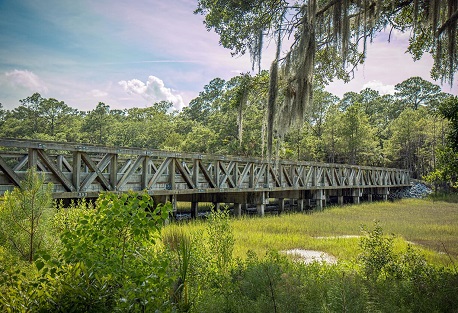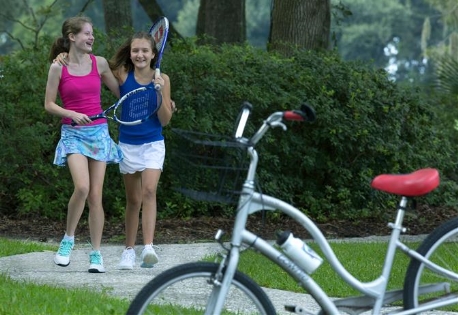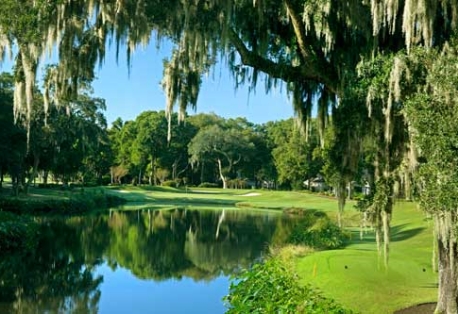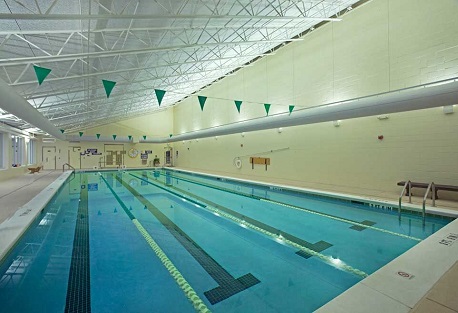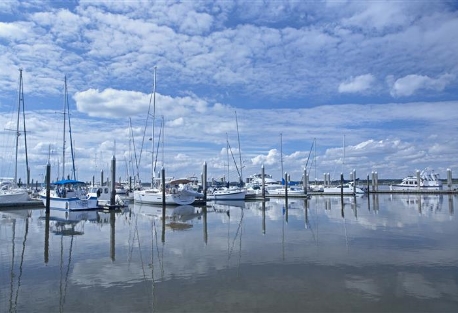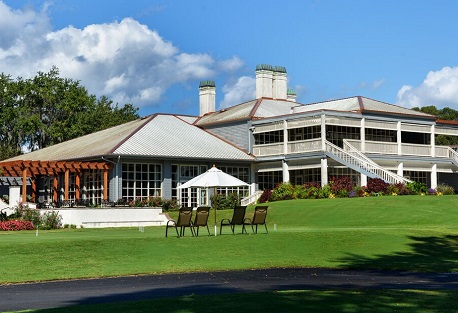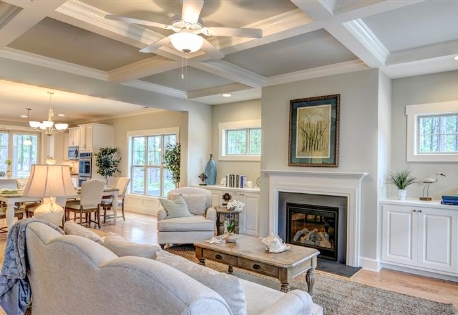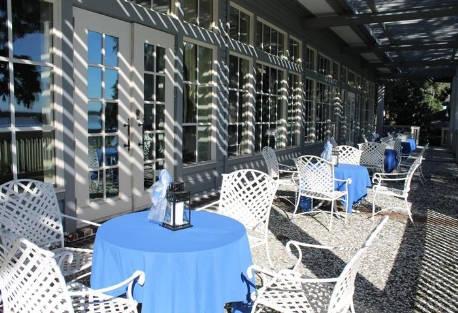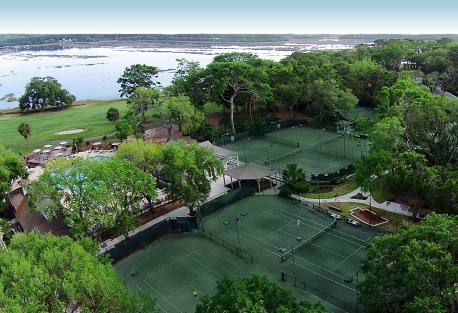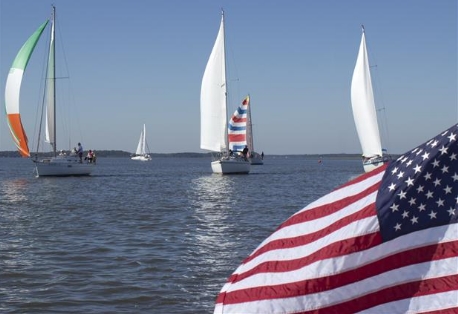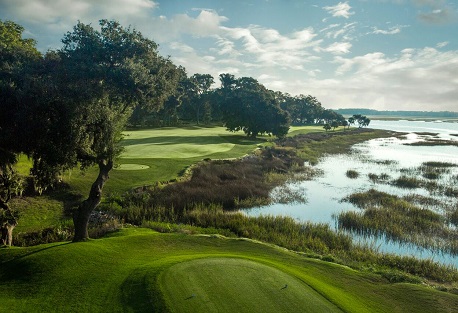 Located just outside of historic Beaufort and bounded by the Morgan River and Jenkins Creek, Dataw Island offers superlative golf, a wide range of watersports, excellent club facilities and gracious homes.
Residents enjoy it all in the casual lifestyle and abundant, natural beauty found only in the Lowcountry of South Carolina.
Dataw Island Marina: Where Boating Begins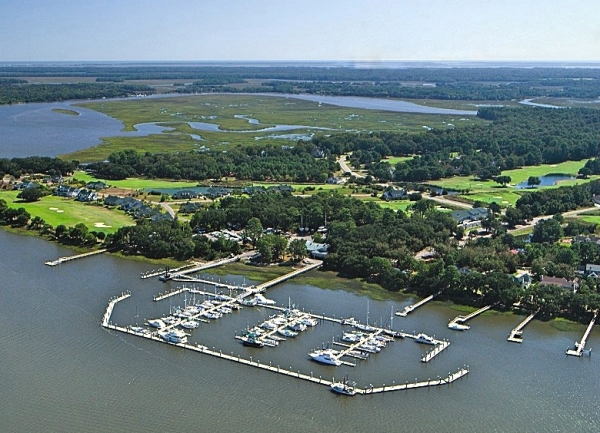 The Dataw Island Marina provides state-of-the-art facilities.
The Dataw Island Marina is the place for sailors and boaters. It provides state-of-the-art facilities and marine services, catering to seasoned mariners as well as families casting off for their first picnic afloat.
A hub of activity, the marina at Dataw Island is the place to go to begin your quiet explorations of pristine inlets, marsh waterways or heading out for deep-sea fishing expeditions on the Atlantic Ocean.
The marina is three miles from the Intracoastal Waterway (ICW) and easily accessible. By boat, follow the ICW to mile marker 521.5 and turn south into Parrot Creek. (Keep all green markers to your left and all red markers to your right.)
World-Class Lowcountry Golf


Cotton Dike course emerged from coastal marshes via dikes.

This serene island seems made for Lowcountry golf. And Cotton Dike, the first golf course created here, had the perfect designer for the job, Tom Fazio. An experienced waterfront designer, Fazio took particular advantage of an unusual landscape.
He coaxed the course out of the Carolina marshes by a series of dikes. The dikes were originally intended to create more land for cotton fields during the great plantation days of Dataw Island. Now they are there for great golf holes. Send me more information about Dataw Island!
Waterviews & More
Almost half of Cotton Dike's 18 holes lie along the marsh and Jenkins Creek. In 2011 Cotton Dike underwent a multi-million dollar rebuild and re-grassing of its greens and reopened to much fanfare.
Morgan River, designed by Arthur Hills, is narrower than Cotton Dike and demands greater accuracy. The beauty of the course is dramatic with breaks in stands of massive oaks creating frames for waterviews of the Morgan River and the savannahs beyond. Send me more information about Dataw Island!
Real Estate Options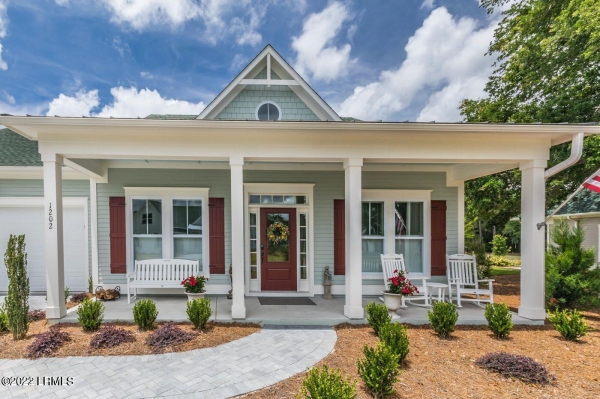 Sample home, 2BR/2BA with 1,890 SF.
Dataw Island has long been known for its thoughtful master plan which is sensitive to the environmental concerns of the island while creating well-designed homesites with great orientation.
Dataw Island offers single-family homes with marvelous views of the marsh, the riverfront or the fairways of either Cotton Dike or Morgan River golf course. Homes are priced from the $200,000s to $1 million+.
Inside, many homes offer custom cabinetry, granite and other top notch amenities. For details and pricing, see the real estate section below. Send me more information about Dataw Island!
Real Estate
Real estate from $10,000
Townhomes from the $180,000s
Homes from the $200,000s to $1,000,000+

Enjoy lake, marsh, lagoon, golf and fairway views
Morgan River and Cotton Dike course views
Custom interiors, granite and other options available in many homes
Resales available

Homesites from $10,000
Video
Amenities
Dataw Island's expanded clubhouse is designed to serve as the heart of this warm, friendly and active community. Its sweeping staircases and tall windows recall the best traditions of the Lowcountry and its relaxed style of living.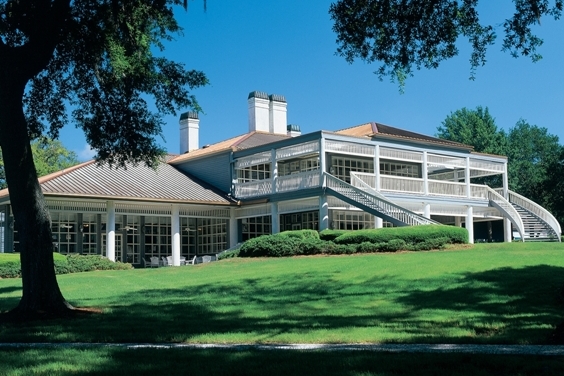 Dataw Island clubhouse captures the warm Lowcountry style.
Fitness fanatics take note: the Community/Fitness Center includes an Aerobic/Exercise Studio with a specially designed floor that cushions even high impact activity, making workouts easier on the knees, ankles and other joints.
Dataw offers regular aerobics classes and its expanded studio provides a wider range of class times and activities. Send me more information about Dataw Island!
The Community/Fitness Center also offers space to exhibit arts and crafts and multi-purpose activity rooms designed to hold small meetings, card parties, or craft and hobby groups such as quilting, needlework, book and investment clubs and flower arrangers.
Cotton Dike, 18-holes championship golf course designed by Tom Fazio
Morgan River, 18-hole championship golf course designed by Arthur Hills
Community Center/Fitness Center

Whirlpool
Year-round, heated, covered pool
Lap and recreational swimming, water aerobics, physical therapy exercise, water sports
Treadmills, stairclimbers, free weights, weight machines

Expanded 25,000-sq.-ft. clubhouse
8 Har-Tru tennis courts
2 championship-caliber lawn croquet courts
Outdoor pool
Wide range of watersports
Area
Consistently placing high in the published ranking lists of preferred communities, Beaufort and Dataw Island have been named among the top choices in the nation for retirement living for many years.
With average yearly temperatures of 65 degrees and 230 days of sunshine, Dataw offers a superb location in which to enjoy four distinct seasons and the benefits of country club living year round.
An Ideal Place
Fortune magazine, New Choices magazine, a Reader's Digest publication, and Where to Retire magazine have all singled out Dataw Island and the surrounding Beaufort area as ideal places to purchase a vacation home or eventually retire to. Where to Retire named Beaufort one of its eight "Great Low Tax Towns." Send me more information about Dataw Island!
Dataw Island is located six miles east of Beaufort, SC, just off the Sea Island Parkway (Route 21). It is 39 miles north of Hilton Head Island, SC, 52 miles north of Savannah, GA, and 75 miles south of Charleston, SC.
You can easily reach Dataw Island by air, flying into Savannah, GA, which is one hour south of Dataw or into Charleston, SC, which is 1.5 hours north of Dataw Island. Send me more information about Dataw Island!
Awards & Honors
DATAW ISLAND

Awarded the Bliss Award (members' happieness), "Best South Carolina Community," by Real Estate Scorecard
Dataw Tennis Center named a top four "Best Tennis Facility in the U.S," by the USTA
Recognized for "Best Island Community," "Best Kayaking," "Best Community Gardens," "Best Health and Wellness," "Stellar Water Views," by ideal-LIVING
Named "Best Community/Neighborhood," "Best Golf Course," "Best Golf Instruction," "Best Tennis Facilities and Instruction," and "Best Wedding Location," by Beaufort Gazette Reader's Choice Poll
Named a "Top Retirement Community," by TopRetirementCommunities
Host to Carolinas PGA "South Carolina Open," the SPGA "Senior Amateur," the South Carolina "Junior Amateur," and the "TaylorMade/Adidas Intercollegiate"
Host, USTA event "Dataw Splash"
CITY OF BEAUFORT, SC
"Most Romantic Town in America," CBS News
"America's Number One Happiest Seaside Towns," Coastal Living
"Top 20 Fishing Town," Field & Stream
"Top 100 Best Art Towns in America," Author John Villani
"Best Small Southern Town," Southern Living
"Top 50 Adventure Town," National Geographic Adventure
"Top 52 Places to Visit This Year" New York Times Travel
"Top 25 Small City Arts Destinations" American Style Magazine
"Top 25 Places to Retire" CNNmoney
"Most Adorable Small Town" MSN Lifestyle
Discovery Package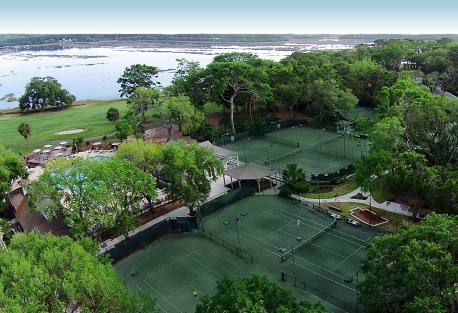 Have your pick of eight Har-Tru tennis courts.
Experience life as it's meant to be lived. Whether it's a sunset over the golf course, a superb meal with friends at the clubhouse or a vigorous workout with a personal trainer, it will be memorable at Dataw.
Or, it could be relaxing by the resort style pool or hitting the perfect cross-court forehand at the tennis center. There's a special distinction to life on Dataw Island–it's called the Dataw Difference.
To truly appreciate Dataw Island, you're invited to visit using the Experience Dataw package. Already staying locally? Inquire how you can Experience Dataw for a Day.
When you choose to Experience Dataw, you will enjoy a discovery tour package that includes:
A three-day two-night stay in the scenic Bluff Villas
Unlimited golf on two championship courses
Unlimited tennis on Har-Tru courts
A complimentary meal in the newly-renovated Clubhouse ($75 gift certificate)
Full access to the Fitness Center, featuring a gym, yoga studio, and indoor lap pool
Tour the island by golf cart or take to the pavement on the club's five miles of walking trails
Introduction to a Member Ambassador
Meet with a local real estate agent to learn more about the community
Cost: $435 for 1 or 2 people sharing a bedroom, including taxes & cleaning fees
Please let inform the community ahead of time if you will be bringing a dog or will need an extra room.
Dataw Island's friendly, neighborly atmosphere can only be truly appreciated with an in-person visit, and "Datawites" will warmly welcome you. Click here to PLAN YOUR VISIT and discover the Dataw difference for yourself.
Stay & Play Package
Spend 3 days/2 nights exploring Dataw Island and all the amenities and sports option you can squeeze in!
Play unlimited golf on the club's 36 holes or unlimited tennis. Try out bocce, croquet, fitness, indoor and outdoor pools and more. A Dataw Island Realtor will give you a tour through the amenities and help you explore home options.
You are also invited to meet with a member ambassador who will tell you what's it's like to live on Dataw Island.
The price for one or two people sharing a bedroom ($435) is inclusive of taxes and cleaning fees as well as all activities. Please call ahead of time, if you will be bringing a dog or will need an extra room. Send me more information about visiting Dataw Island!
Additional Information
Membership Programs
All owners on Dataw Island enjoy a "social level" Club Membership, and sports packages are available for the avid sports player.
Membership to the Dataw Island Club and the Dataw Island Owners Association includes:
Outdoor Resort-Style Pool
Community Center with:

Fitness Facility, Indoor Pool, Dance/Yoga Studio
Art Room, Card Room, Meeting Room, and Locker Rooms with Showers

Clubhouse with Multiple Dining Options, Special Events
Discount on Meeting Facilities Rentals
Golf and Tennis Practice Facilities
Community Gardens
Community Docks
Free Library
24-hour Manned Security Gate; Concierge-Style Security Staff; Home Security.
Access to:

Member Clubs and Organizations
Services such as Spa Treatments, Trainers, Fitness Classes and more
Nearest Airport
Savannah International, 1 hour
Charleston Airport, 1.5 hours
Private airports in Beaufort, Ridgeland and Hilton Head
Location Map
Click here to get directions